My bank, HSBC in the US has shocked me, they really had. When logging in to my account online I failed the security once, then twice... this got me thinking: "just do not block me, as I am travelling and restoring everything may be a pain". Only then have I noticed this banner on the far right: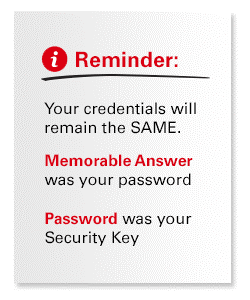 Please, anyone, tell me, why would one want to rename password into memorable answer and security key into password?
Yet after all they same:
Your credentials will remain the SAME.
Real.ly? They have blown my brain today.
P.S. asked HSBC to comment and got this standard retarded answer:
 Hi Larysa, thank you for getting in touch. Please see the following link for information about the changes made to the Internet Banking log on page in the US: http://www.us.hsbc.com/1/2/home/personal-banking/pib/logon-changes If you have any further questions, please contact your local Contact Centre, so we can help you further. To locate your local country contact details, please visit www.hsbc.com and select your home country.
Open all references in tabs: [1 - 4]
Short link: http://thatis.me/~ps45$3K